Client: Emotion Studios
Industry: Photography
Service: Bespoke Design
Emotion Studios is a modern, friendly and relaxed photography studio. They are based near Wolverhampton on the Shropshire/Staffordshire border. They specialize in all aspects of portrait photography from family groups and new-born babies to pet photography. Their success is built on getting to know you and understanding the reasons for your photo shoot.
Challenge
Emotion Studios weren't getting much conversion on their website and were instead getting the majority of their customers by word of mouth. Their old site looked outdated and used a bright and vivid color palette. This didn't reflect the luxury brand they wanted to convey.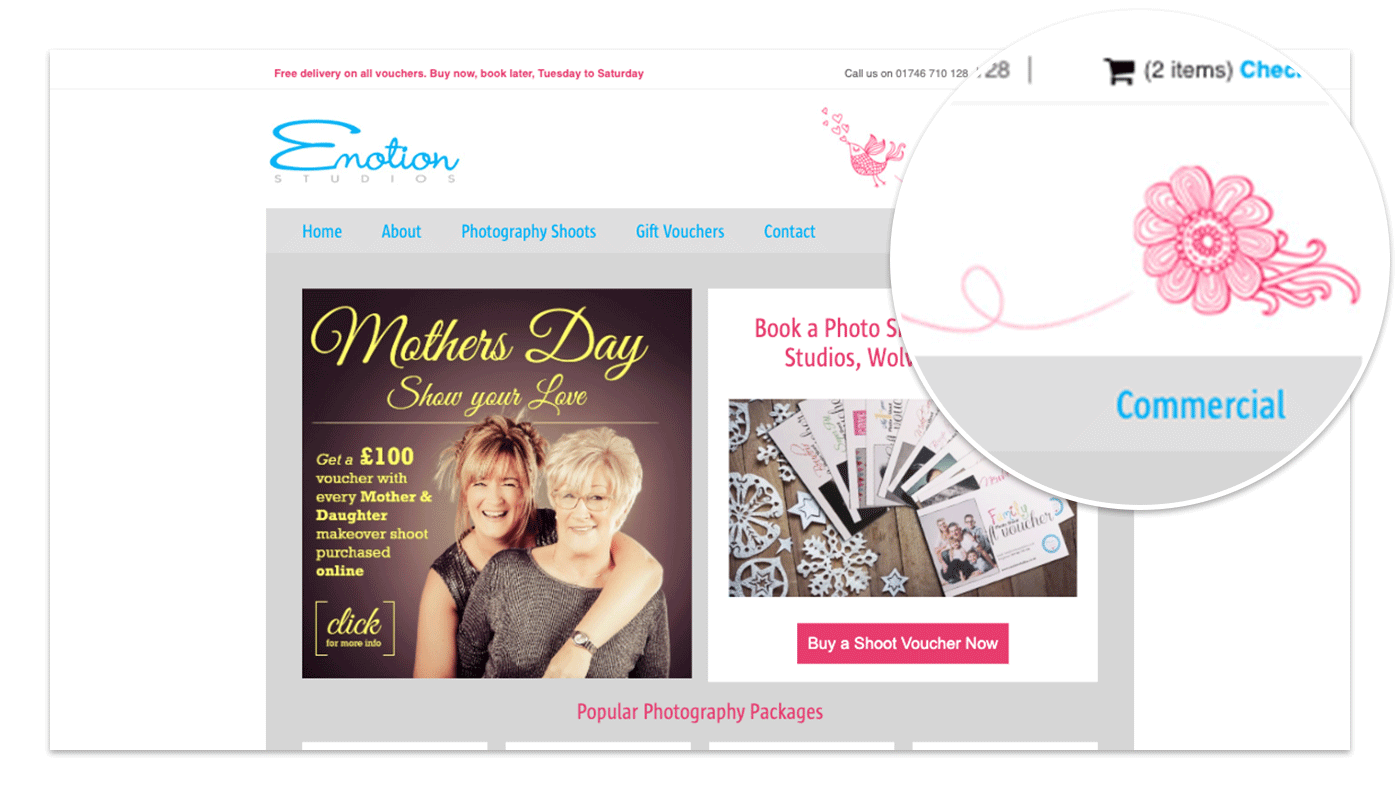 Not only did they want it to feel luxurious but they also wanted it to feel more personal by adding "The Experience" and "Meet Us" landing pages. This was to be reinforced with the inclusion of testimonials arranged across the whole website.
In terms of sales they wanted the newsletter to be prominent and to provide customizable landing pages for marketing. The photoshoots needed more options to make them more like packages and feed off the photoshoots, upselling to either gift vouchers or related heirlooms products.
Solution
Bespoke theme design for BigCommerce
Emotion Studios provided us with updated branding to compliment the luxurious feel they wanted. After spending many hours researching luxurious brands we felt it was important to keep the site light and minimal and use the bolder colors provided more sparingly.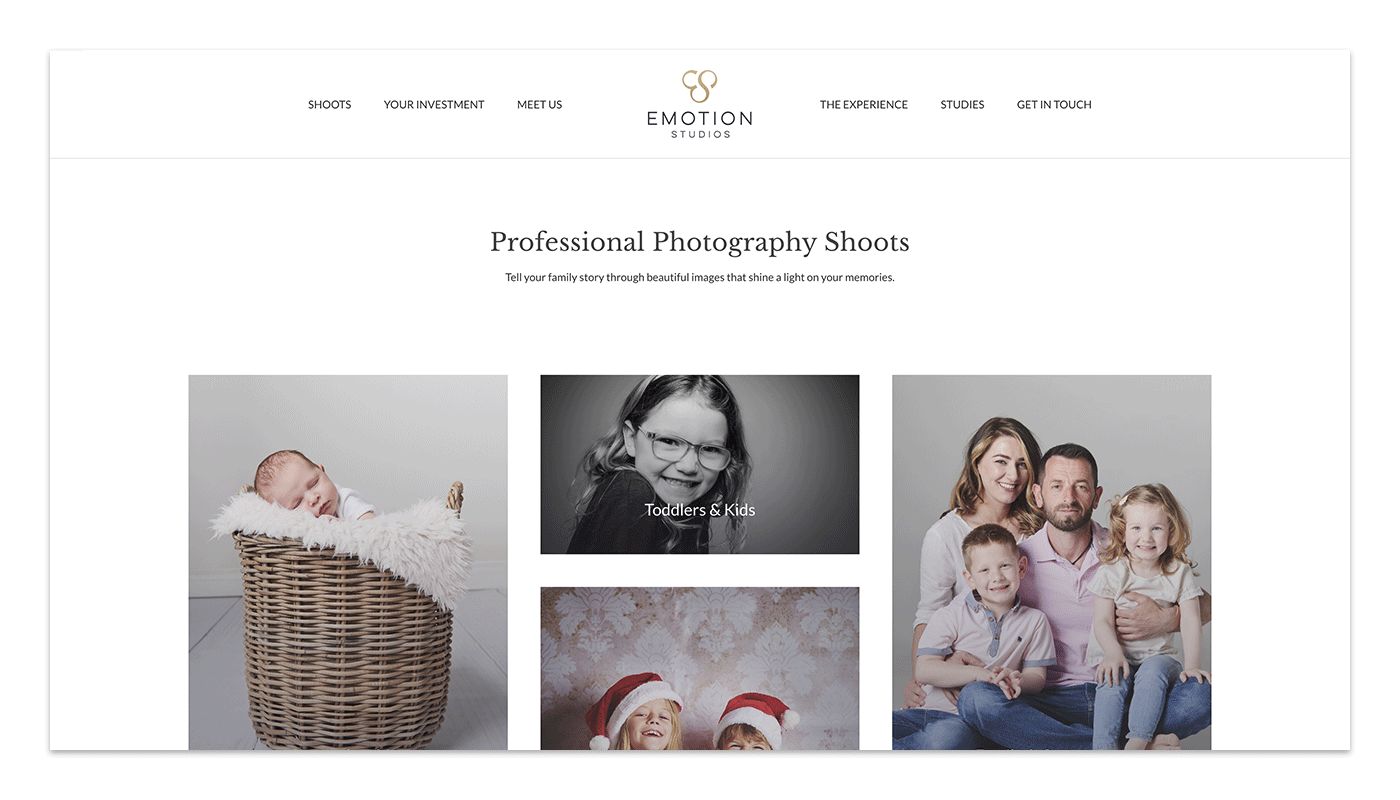 Conversion Optimization to Improve Newsletter Signups
The newsletter is important to the client so not only is it permanently visible above the footer on all pages, but there's also a fixed strip across the bottom of the screen on the homepage. We also added a cool transition so when the strip meets the footer it disappears so only the main newsletter section shows, adding to the up market feel.
Custom BigCommerce Page Builder Widget Development
We added a varied collection of custom elements to the BigCommerce Page Builder to make new landing pages really easy to customize. The layout elements are called "widgets". These Widgets can also be added to several of the store's pages, including the homepage, product pages, category pages, brand pages, web pages, blog posts, search results page, and the cart page. The addition of a testimonial widget means that they can be added across the site, which was requested by the client.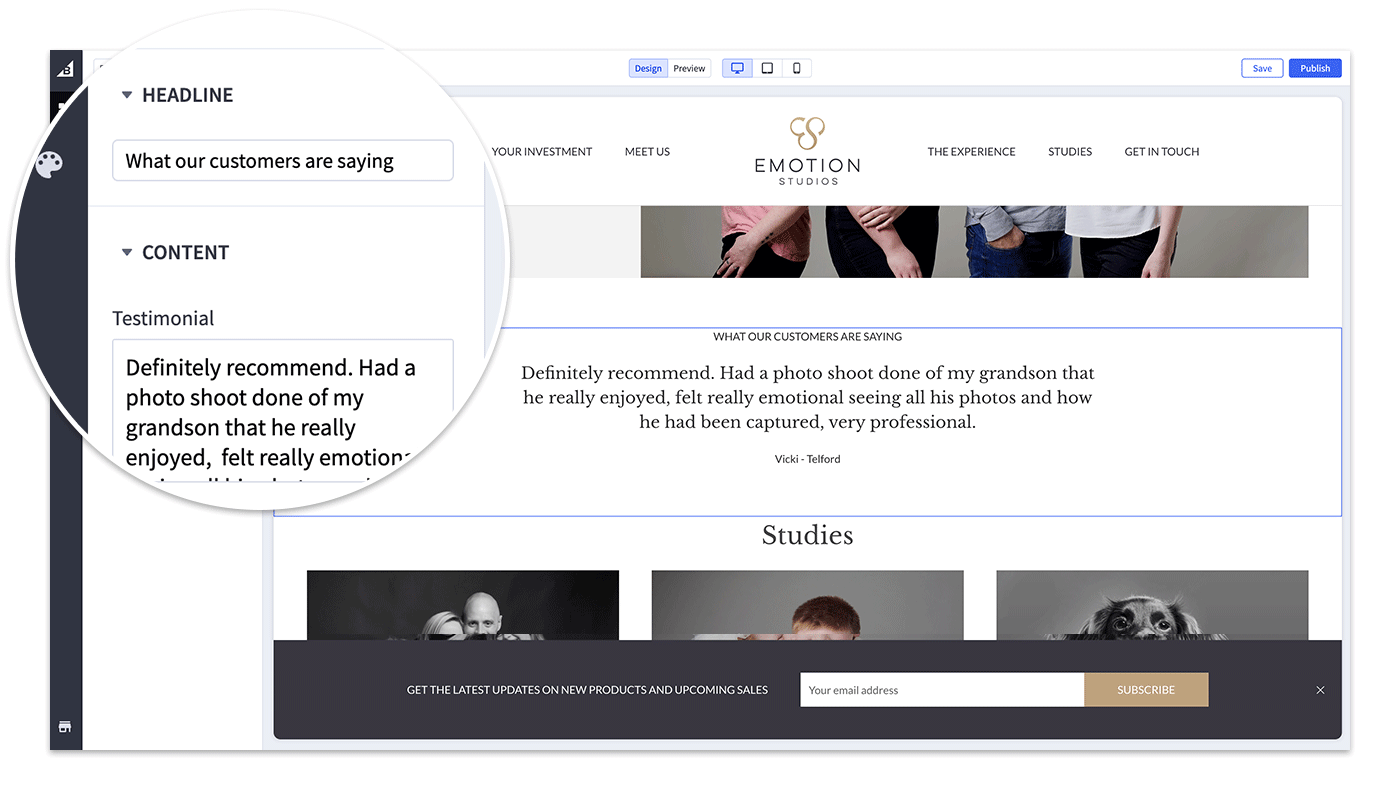 Results
Emotion Studios now looks like an up market site and the image focused layouts promote the quality of their work better. The color palette they provided us has been used carefully throughout the site to create a great balance between the different sections.
The addition of custom widgets means they can create new landing pages at any time and add a number of layouts to them that fit within the global style and don't look like bland webpages. There was a strong need to have a prominent newsletter area and having it fixed to the bottom of the screen has achieved this.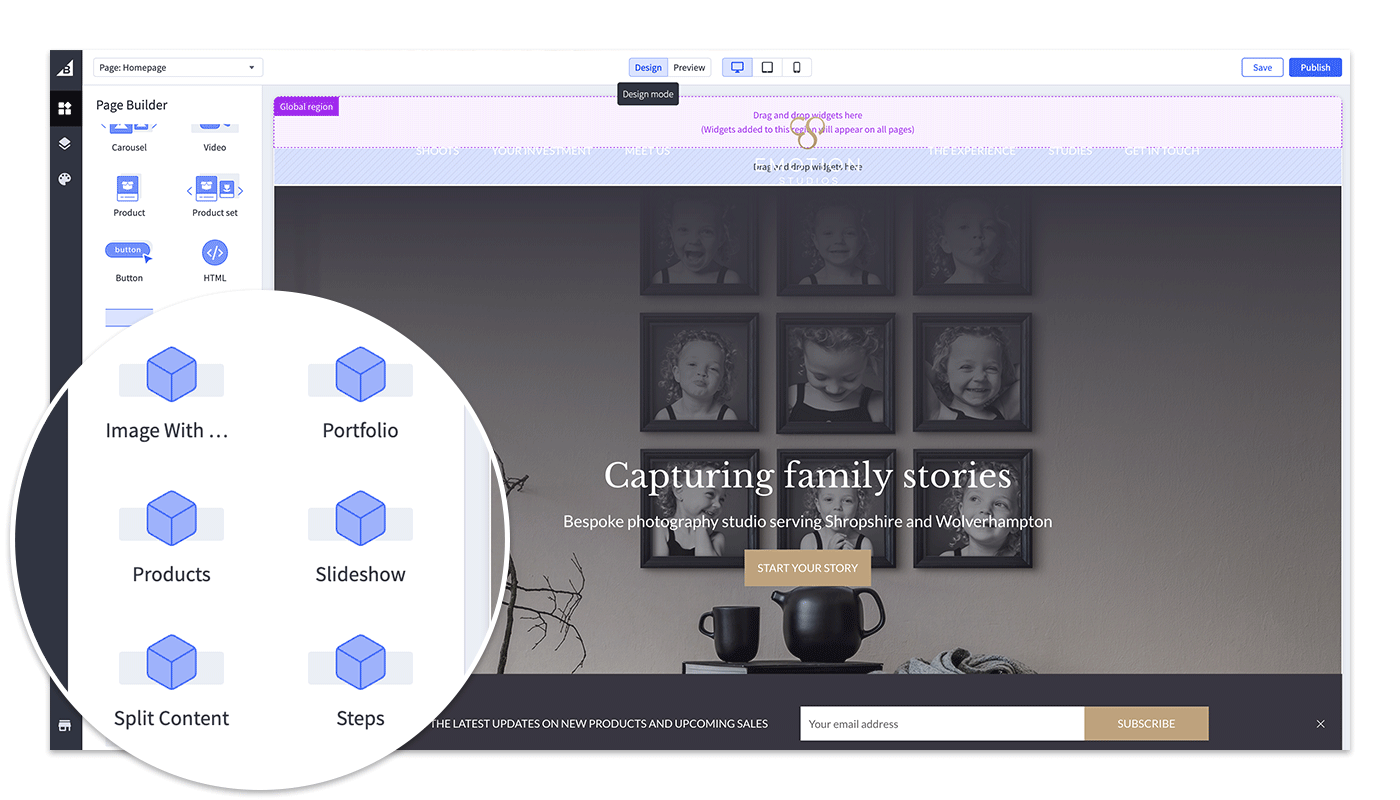 On their previous website they only provided photoshoots but the addition of package options mean there is greater chance of an upsell. If a customer isn't sure the inclusion of a description dropdown for each package may swing a sale in their favor.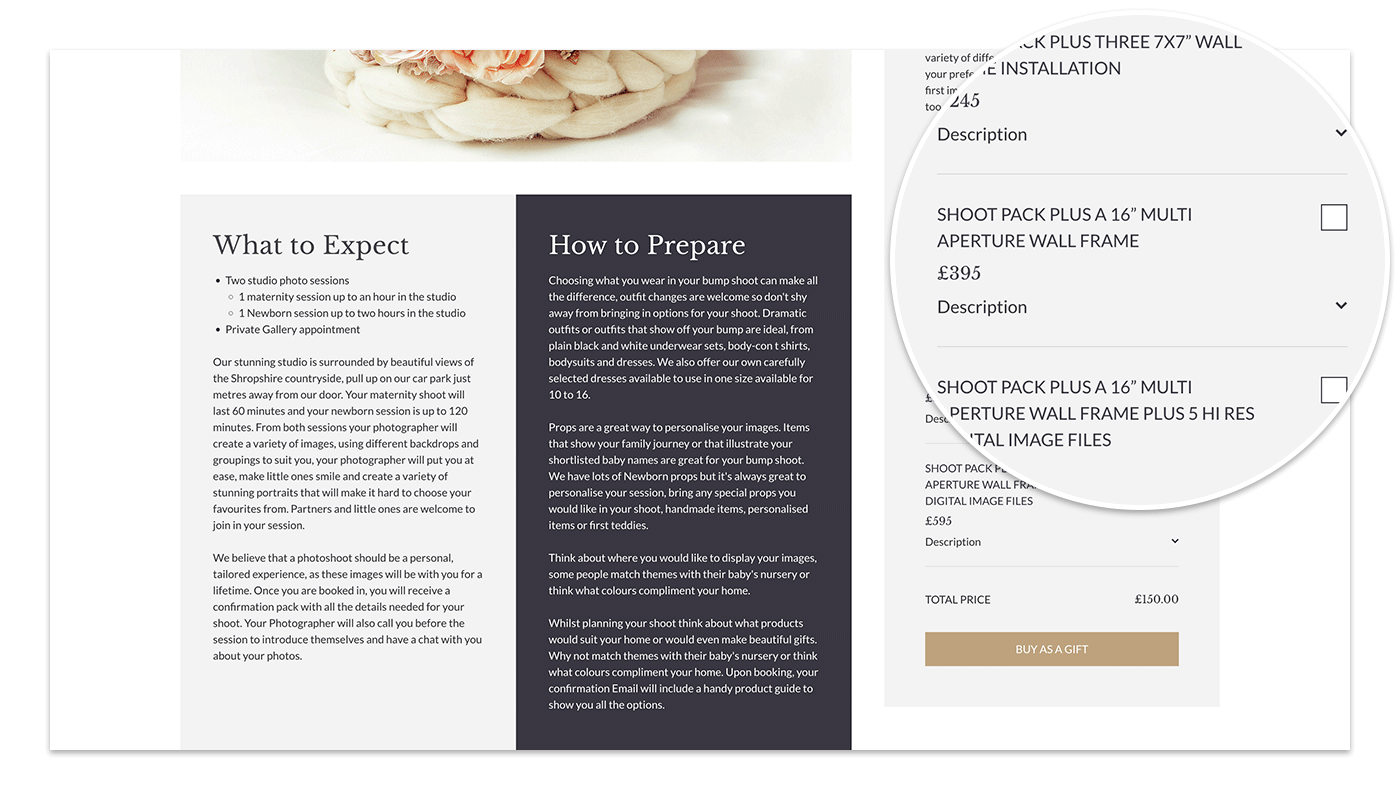 If you would like to work with Flair to develop custom Page Builder regions for your BigCommerce store, please get in touch with us today.